Wood Hammer Mill
Before making pellet with your pellet making machine, you need to resize your raw material so that they are fit the pellet machine to process pellets, thus the hammer mill is necessary. A hammer mill is a kind of supporting machine to make the size of raw material within 4-5mm.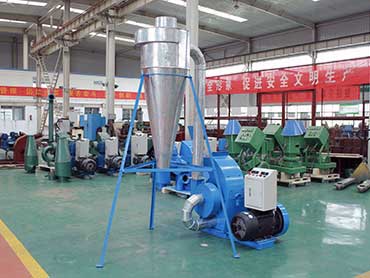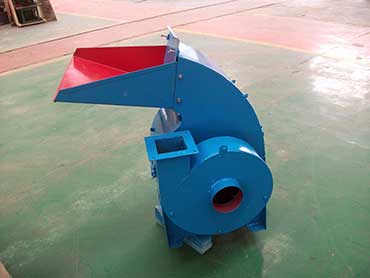 wood hammer mill with cyclone
wood hammer mill wiothout cyclone
Application of wood hammer mill
Wood hammer mill is widely used in the processing of pine, poplar, poplar, fir, bamboo and other trees, as well as thatch, corn stalk, sorghum stalk, all kinds of plate scrap, waste wood board packing box, wood chip, and other fibrous material chip.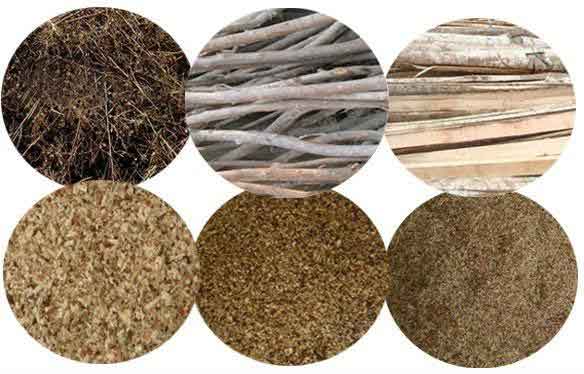 Advantages of wood hammer mill
Reasonable design, simple and compact structure.
Safety, durability, and high production efficiency.
The whole set of equipment is driven by only one motor. The noise is small and the work is stable.
Low price, low energy consumption and high output.
The quality of finished sawdust is good, and the processing cost is low.
Working principle of wood hammer mill
Wood hammer mill adopts blade cutting and high speed airflow impact, double functions of collision and pulverization, and it can accomplish micro material sorting and processing at the same time. In the cutting and grinding process of the blade, the rotor produces a high speed air flow and rotates with the cutting direction of the blade, The material is accelerated in the air flow, and repeatedly impact, the material is crushed simultaneously, accelerate the crushing rate of materials.
Structure of wood hammer mill
The main machine consists of three parts: the rotor, the upper body and the lower body. Crushing chamber adopts multi-stage crushing process and fine crushing principle device, which is characterized by large impact, high production efficiency and fine crushing ability.
The sawdust crusher consists of main engine, fan, analyzer, powder collector, dust collector and other parts. Each component has compact structure and reasonable layout, its outstanding feature is convenient operation, safe use, good sealing, small noise.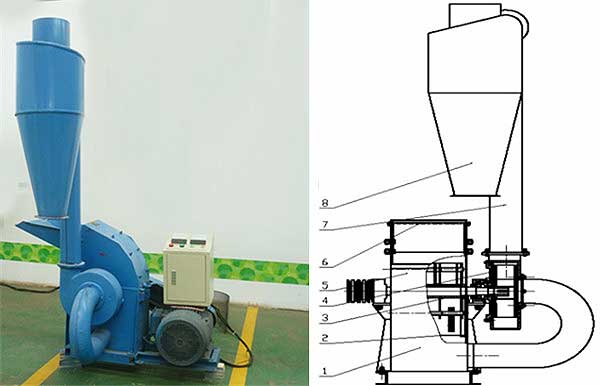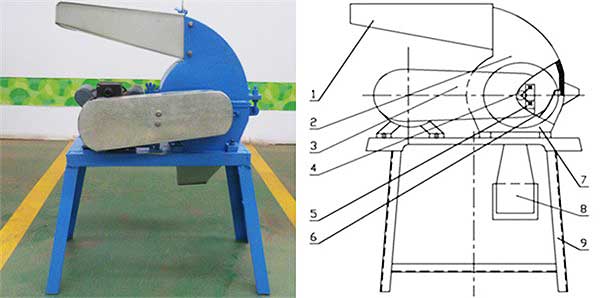 Parameter of wood hammer mill
MODEL
POWER
WEIGHT(kg)
DIAMESION(mm)
FSC200-160B
Single,3 phase,1.5Kw
75/85
750x450x730
FSC200-160Q
3.0hp
65/75
920x650x740
FSC300-200B
Single,3 phase,3Kw
120/135
1000x750x1120
FSC300-200Q
5.5hp
110/125
1000x750x1120
FSC420-280A
15hp,22hp
370/390,390/410
1650x800x1120
FSC420-280B
3 phase7.5Kw
3 phase 11Kw
250/270,300/320
1200x1000x1220
FSC500-280A
22hp
370/390
1650x800x1120
FSC500-280B
3 phase 11Kw
3 phase 15Kw
470/500,500/530
FSC500-400A
55hp
Cyclone,125/145
Host machine,310/330
Diesel engine,560/590
2700X750X920
1150X800X1270
1500X1050X1320
FSC500-400B
3 phase 22Kw
3 phase 30Kw
Cyclone 125/145
Hammer mill 585/610
2200X1050X1020
1900X1100X1270
FSC500-600B
3 phase 37Kw
3 phase 45Kw