Small Oil Press
Working Theory of Screw Expeller Pressing
Screw expeller pressing is to separate the oil from oil bearing materials by the pressing power which comes from the change of chamber volume, drive from screw worm, resistance of curve teeth at press rings and extrusion friction between oil materials. Under the big pressure created in press chamber, the oil can be discharged from gap of press bars and oil trough of press rings. Either big scale and small scale of screw oil expeller, they have similar theories in screw expeller pressing. Because the screw type seed oil expeller is mainly used by extrusion theory, so it is also called as oil extruder or oil extrusion process..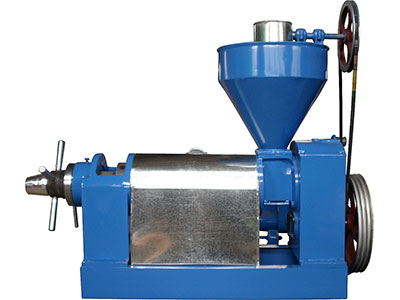 The structure of Screw Oil Expeller
Screw oil expeller are mainly composed by shift gears box, press cage, feeder, press screw, and machine frame. The five parts are the main structure of screw oil expeller. The screw type seed oil expller is an crude oil processing equipment.
The Process of Screw Expeller Pressing
By using the pressure of dynamic extrusion to extract the oil from material, the material is pushed forward in the press chamber. Except of feeding hopper, the press chamber of the main working parts of screw oil expeller, which is composed of a worm shaft and round bar cage. There are two type single stage press and double stage press. There is only one horizontal chamber in single stage press. Double stage press is to add a straight chamber to single press for first class press.
Worm shaft is a shaft with worms and collars. Every worm have thread pitch and thread depth. With the thread pitch of the worm shaft becoming shorter and thread depth becoming shallow, the volume of press chamber is reducing from feeding hopper and discharging port. Material is pushing out along the worms. The oil can be extruded out gradually with the increasing pressure from press chamber. There are gaskets between round cage bars, which form gaps where the oil flow out.
Compared to small oil expelelr, big scale seed oil expeller always equipped with scraper in chamber. The edge of scraper comes deep into the chamber and aims at every collars to prevent materials from skidding run in the chamber and return. The scraper can also adjust the thickness of cakes and control the pressure of chamber to reduce oil residue ratio. The big scale screw oil expeller also have cake binder to make the surface of residue cakes smooth and clean. Cooker is usually combined together with oil expeller to make cooking and pressing continuously processing.
The prepress expeller is to prepress oil materials by bigger pressure. The crude cakes are fed into screw oil expeller to press or extracted oil by solvent. So its structure is a little different from common seed oil expeller. The volume of chamber in feeding parts and discharging parts change greater. The capacity of prepress expeller is bigger, too.
The screw oil expeller can work continuously, so it need little labor. The residue cake after oil extraction is small and thin. The screw type seed oil expeller is popular and easy in application. But the main parts in chamber is easy to wear, which need change at a certain time, so the spare parts increase the working cost at a certain extent.
Raw Materials for Screw Oil Expeller
The screw type seed oil expellers are very popular in the process of granule oilseeds such as rape seeds, peanuts, soybean (Soya), sesame seeds, cotton seeds, sunflower seeds, Jatropha curcas seeds, Oil-tea Camellia Seed, canola, coconut, palm oil, palm kernel etc.
Technical Data of Popular Seed Oil Expeller
| MODEL | CAPACITY(KG/H) | POWER(KW) | NET WEIGHT(KG) | PACKING(MM) |
| --- | --- | --- | --- | --- |
| YZS-68 | 40 | 5.5 | 130 | 1050*660*760 |
| YZS-80 | 80-125 | 5.5 | 330 | 1320*440*695 |
| YZS-95 | 160-200 | 11 | 420 | 1910*610*765 |
| YZS-100 | 160-200 | 7.5 | 400 | 1860*550*695 |
| YZS-120 | 200-300 | 11 | 700 | 2060*610*770 |
| YZS-130(15.5kw) | 375-500 | 18.5 | 700 | 2320*700*780 |
| YZS-130(18.5kw) | 550-700 | 18.5 | 920 | 2020*700*780 |
| YZS-165 | 620-830 | 22-30 | 1600 | 2120*800*980 |
Small Oil Expeller
YZS-68 Seed Oil Expeller(5.5kw)


| Raw Material | Capacity(kg/hr) | Output Rate(%) | Output Efficiency |
| --- | --- | --- | --- |
| Cotton seeds | 50-60 | 12-14 | 65-72 |
| Soy bean | 28-37 | 10-16 | 61-65 |
| Peanut kernel | 45-60 | 35-45 | 91-92 |
| Rape seeds | 45-60 | 30-38 | 82-85 |

YZS-80 Seed Oil Expeller(5.5kw)


Raw Material
Capacity(kg/hr)
Output Rate(%)
Output Efficiency
Rape seeds
80-100
30-35
7.5-8
Ground nuts
80-100
35-45
7
Beans
75-95
10-14
6.5-7
Sesame
80-100
44-47
6.5-7.5
Rape seeds
40-50
(cold press)
10-14
5.5-6.5

YZS-95 Oil Press(7.5kw)


Raw Material
Capacity(kg/hr)
Output Rate(%)
Cake Residual(%)
Output Efficiency
Rape seeds
Hot pressing
150-170
30-38
7.5-8
Cold pressing
75-95
28-35
Peanut
Hot pressing
150-185
35-45
7
Cold pressing
65-95
32-40
Beans
Hot pressing
135-160
10-16
6.5-7
Cold pressing
70-105
8-14
Sesame
Hot pressing
150-185
44-47
6.5-7.5
Cotton seeds
Cold pressing
95-105
10-14
5.5-8.5

YZS-100 Oil Expeller(7.5kw)


Raw Material
Capacity(kg/hr)
Output Rate(%)
Cake Residual(%)
Output Efficiency
Rape seeds
Hot pressing
150-170
30-38
7.5-8
Cold pressing
75-95
28-35
Peanut
Hot pressing
150-185
35-45
7
Cold pressing
90-110
32-40
Beans
Hot pressing
145-160
10-14
6.5-7
Cold pressing
70-105
8-14
Sesame
Hot pressing
150-170
44-47
6.5-7.5
Cotton seeds
Cold pressing
85-105
10-14
5.5-6.5

YZS-120 Oil Expeller(11kw)


Raw Material
Capacity(kg/hr)
Output Rate(%)
Cake Residual(%)
Output Efficiency
Rape seeds
Hot pressing
295-335
30-38
7.5-8
Cold pressing
100-125
28-35
Peanut
Hot pressing
210-295
35-45
7
Cold pressing
85-125
32-40
Bean
Hot pressing
250-295
10-16
6.5-7
Cold pressing
105-145
8-14
Sesame
Hot pressing
295-335
44-47
6.5-7.5
Cotton seeds
Cold pressing
125-145
10-14
5.5-6.5

YZS-130 Oil Expeller(15.5kw)


Raw Material
Capacity(kg/hr)
Output Rate(%)
Output Efficiency
Rape seeds
333-415
30-38
7.5-8
Ground nuts
350-450
35-45
7
Soybean
290-330
10-16
6.5-7
Cotton seeds
(cold pressing)
220-290
10-14
5.5-6.5

YZS-130 Oil Expeller(18.5kw)


Raw Material
Capacity(kg/hr)
Output Rate(%)
Output Efficiency
Rape seeds
410-500
30-38
7.5-8
Ground nuts
420-500
35-45
7
Soybean
350-410
10-16
6.5-7
Cotton seeds
(cold pressing)
320-370
10-14
5.5-6.5

YZS-165 Oil Expeller(22-30kw)


Raw Material
Capacity(kg/hr)
Output Rate(%)
Output Efficiency
Rape seeds
500-625
30-38
7.5-8
Ground nuts
530-630
35-45
7
Soybean
450-530
10-16
6.5-7
Cotton seeds
(cold pressing)
430-500
10-14
5.5-6.5