Animal Feed Machinery
Animal feed machinery is a kind of feed processing machinery, which use corn, soybean meal, straw, grass, rice husk as raw materials, crush them directly into pellets. The machine is also capable of custom sizing the feeds blocks for animal feed and other uses. The machine can compact animal feed into transportable blocks. Animal feed cooker-extruder machines, Animal feed cooking machinery and equipment, industrial, Apple crushers, animal feed, industrial, Made from mild steel. Pellet, Feed Machine/Livestock Equipment, Advantages of High Output and Low ... Complete Feed Machine Line, Small Feed Unit, Suitable for Livestock, Poultry.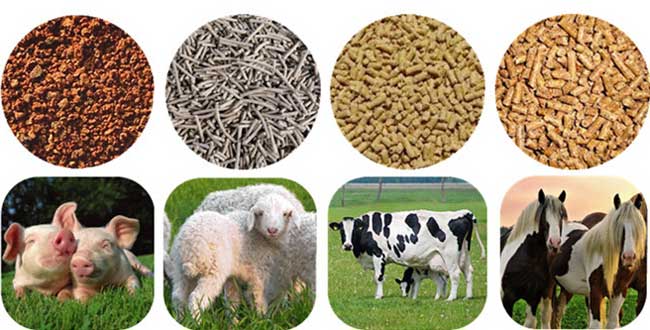 Classification of feed pellet machine
Animal feed machinery is different in appearance and mode of production.
Die: Animal feed machinery is divided into ring die feed pellet machine and flat die feed pellet machine
Raw material: Straw animal feed machinery, wheat bran animal feed machinery, soybean animal feed machinery, corn stalk animal feed machinery, sawdust animal feed machinery, etc.
Application: Small household animal feed machinery, poultry animal feed machinery, small poultry animal feed machinery, fish feed machinery, rabbit feed machinery, pig feed machinery, straw feed machinery.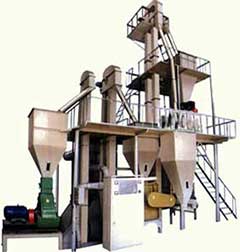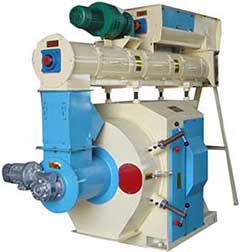 Animal Feed Machinery Plant
Flat Die Animal Feed Machinery
Ring Die Animal Feed Machinery
Parameter of flat die animal feed machinery

| Type | Power (Hp) | Output (kg/h) | Weight (kg) | Package Size (mm) |
| --- | --- | --- | --- | --- |
| ZLSP 120A | 8Hp | 60-100 | 120/140 | 900x500x730 |
| ZLSP 150A | 8Hp | 90-120 | 180/220 | 1000x500x750 |
| ZLSP 200A | 15Hp | 200-300 | 210/240 | 1460x750x900 |
| ZLSP 230A | 22Hp | 300-400 | 280/310 | 1560x850x1000 |
| ZLSP 260A | 30Hp | 400-600 | 330/360 | 1200x500x1070 |
| ZLSP 300A | 55Hp | 600-800 | 410/450 | 1220x600x1000 |
| ZLSP 120B | Three phase 3kw / single phase 2.2kw | 60-100 | 80/100 | 750x320x680 |
| ZLSP 150B | Three phase 4kw | 90-120 | 95/110 | 800x450x700 |
| ZLSP 200B | Three phase 7.5kw | 200-300 | 200/230 | 1650x820x1200 |
| ZLSP 230B | Three phase 11kw | 300-400 | 290/320 | 1050x480x930 |
| ZLSP 260B | Three phase 15kw | 400-600 | 320/360 | 1180x540x1000 |
| ZLSP 300B | Three phase 22kw | 600-800 | 350/380 | 1240x540x950 |
| ZLSP 150C | Three phase 4kw | 90-120 | 105/125 | 1000x480x780 |
| ZLSP 200C | Three phase 7.5kw | 200-300 | 210/230 | 1050x550x830 |
| ZLSP 230C | Three phase 11kw | 300-400 | 290/320 | 1200x560x950 |
| ZLSP 260C | Three phase 15kw | 400-600 | 340/370 | 1240x580x1000 |
| ZLSP 300C | Three phase 22kw | 600-800 | 420/465 | 1300x620x1100 |
| ZLSP 120Q | 7.5Hp | 60-100 | 120/140 | 900x500x730 |
| ZLSP 150Q | 10Hp | 60-120 | 180/220 | 1000x500x750 |
| ZLSP 150P | ≥8Hp | 90-120 | 105/125 | 900x540x1020 |
| ZLSP 200P | ≥15Hp | 200-300 | 210/230 | 1000x540x1020 |
| ZLSP 230P | ≥22Hp | 300-400 | 290/320 | 1000x540x1020 |
| ZLSP 260P | ≥30Hp | 400-600 | 340/370 | 1050x540x900 |
| ZLSP 300P | ≥55Hp | 600-800 | 425/465 | 1100x540x1000 |
Parameter of ring die animal feed machinery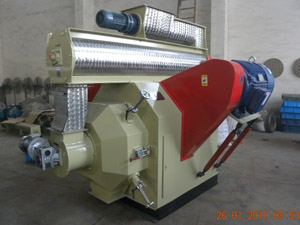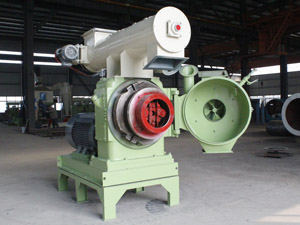 Model
Power
(KW)
Packing Size
(MM)
Net Weight
(Kg)
Capacity (Ton/Hr)
Sawdust/Stalks
BPM 420
Main Motor
90
2500*1100*1900(2300)
3T
1.2~1.5/1.5~2.0
Feeding Machine
1.5
Conditioner Motor
2.2
Main Motor
110
2800*1100*1900(2300)
3.7T
1.5~1.8/2.0~2.5
BPM 508
Feeding Machine
1.5
Conditioner Motor
2.2