Cable tray roll forming machinery
The cable tray roll forming machinery include uncoiler car, uncoiler, feeding guide, main machine, roll forming cutter, automatic stacker, hydraulic system and electric control system.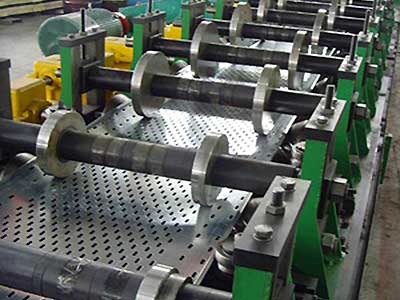 Cable tray roll forming machinery
Capabilities of Cable Tray Roll Forming Machinery
It can according to the need to produce the steel width (60mm≤§≤860mm), many kinds of specification electric cable bridges and other structure product.
Product speed by punching: 2.5~5m/min
Continuous rollforming speed: 10~15m/min
Material thickness: 1~2mm
Material require: Q235 cold roll steel
Production line has automatic and manual two operating mode, may realize the linkage and the partition revolution work.
Main composition of Cable Tray Roll Forming Machinery
This unit consists of the decoiler, ML-900 flatting, 200 punch, die, servo feeding, guider, main roll forming machine, follow cutting, cut-to-length part, recoiler, electrical control cabinet; etc.
Each part major technical parameters
Drive decoiler
Material width:860mm
Material weight:6000kg
Material inner diameter:460~510mmMaterial outer diameter:1200mmDrive power: electromotor and speed reducer integration, 4KW frequency conversion electromotorFrame type: cantalever inner support, manual handle afterbody, pneumatic press cantalever.
Flatting
Working rolls: 11 rolls, up 4/down 5, the residual 2 rolls is clamp deliver rolls.
Flatting bound: material thickness 1~2mm, material width 100~860mmDrive power: 5.5kw frequency conversion electromotor
Speed reducer model: ZQ250
flatting speed:3~10 m/min
Parenthesis up and down a pair of fortified wheel
Continual punching mould
Amount: Each kind of width specification 1 set dies, total 6 sets
Die require: Cr12 quench
Servo feeding set
Servo electromotor power: 4.4kw
Multistage type feeding, memory ten group of memory functions
Man-machine contact surface numerical control system
Uses Mitsubishi servometer
Holds material (use in cushion section)
The roller type, the both sides have the bearing support, 3 sets, use in holding the material and under the deposited material spacing.
Guider
A pair of horizontal roller and two pairs of vertical guide rolls, total 1 sets.
Main roll forming machine
Type: GY180(Extra wide)
Rack structure:Dragon Gate type memorial arch frame
forming frame: 16 sets
Forming variety: bridge frame
material max width:860mm
material max thickness:≤2.0mm
forming width: 100~600mm
forming height: 50~100mm
The diameter of the roller axis: ¢85mm
Roll mould material: Gcr15,quenching treatment:HRC58-62°
Drive type:30kw frequency conversion electromotor, ZQ500 Main speed reducer
Autocephaly distribute gear case
Hydraulic cutting
Hydraulic pumping station: 5.5kw
blade cuttimg, blade material Cr12, quench treatment
Electrical control
Main operation control cubicle
Amount:1 set
Frequency conversion: 3sets(in main control cubicle, control decoiler, flatting and roll forming machine)
PLC control: 1 set
8 inch liquid crystal touchscreens
All electrical element is the Mitsubishi original installation brand
Assistant control cubicle
Amount: 3 sets (follow decoiler, flatting, roll forming machine)
Control styp: manual handle
Produce condition
capability: about 71.5kw
gas fountain: 0.9 cube/min
Production land area: 33m*3m