What are the uses of sawdust pellets?
Civil heating and energy consumption. High utilization rate of combustion, easy to store, easy to use, safe and hygienic. Sawdust pellets are widely used in families.
Biomass industrial boiler. As the main fuel of industrial boilers, it will replace coal, heavy oil and natural gas to solve environmental pollution.
Electricity generation. It can be used as fuel for thermal power generation. Each 10,000 tons of biomass fuel can replace 0.8 million tons of standard coal, reducing SO2 emissions by 160 tons, soot emissions by 80 tons and CO2 emissions by 14.4 million tons.
It can also be used as a base for mushrooms, letinous edodes, etc.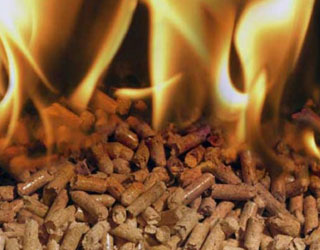 Calculated by a 4-ton boiler burning 3,600 tons of coal a year, the use of biomass pellet fuel saves 1.7 million yuan, 4 million yuan and 2.1 million yuan compared with coal, oil and natural gas.
Biomass pellet fuel is treated by professional mechanical treatment and compression molding. The density, intensity and combustion property of biomass raw materials (sawdust) are changed. The density of its forming fuel is large, which makes loose material "compact". The overflow rate of volatiles is limited and the combustion time of volatiles is prolonged. The combustion reaction is mostly carried out on the surface of molding fuel. The pellet size is about 3-5 cm in length, 8 mm in diameter (6, 8, 10, 12 mm specially made for key customers), and 4730 kcal/kg in high calorific value. The water content is 10%, the density is 1.12 kg/m3, the ash is 1.5%, the total sulfur is less than 0.03%. The stove provides enough air to reduce the loss of unburned volatile molecules, thereby reducing the generation of black smoke. Because of the compact texture of the briquette fuel, the structure of the remaining carbon after the volatile overflow is relatively tight, and the moving air flow can not disintegrate it, so the combustion of the carbon can be fully utilized. During the combustion process, it can be clearly observed that the bright carbon blocks is wrapped with blue flame, the furnace temperature is greatly increased, and the fuel time is significantly prolonged. The oxygen demand of the whole combustion process tends to be balanced and the combustion process is relatively stable.
Biomass pellet fuel is the second generation of biofuels that do not compete with grain and others. It can maximize the reuse of waste and make pellet fuel, which can replace coal, oil and other non-renewable energy. It is widely used in waste power plants, various industrial boilers and so on. Its combustion heat per ton can reach about 4700 kilocalorie, and its performance can be comparable to that of standard coal. All kinds of emission indicators are lower than GB13271-2001 "Boiler Air Pollutant Emission Standard" provisions, it is the best substitute for electricity, fuel, gas, coal-fired products. The operation cost of biomass pellets is low. Compared with fuel, gas and electric heating, 40%-50% operation cost can be saved. Sawdust particles are highly efficient, energy saving and environmental friendly source of thermal energy.