Wheat flour machinery affects flour quality
The effect of wheat flour machinery on the matching of raw grain will affect the quality of flour. The improvement of science and technology makes the choice of flour more diversified, which requires a more sophisticated production process for wheat flour machinery. Flour quality is related to many factors, and unscientific use of single wheat or raw grain is the main factor affecting flour quality. The quality of wheat has a great influence on the yield, quality, flour yield and other technical indicators of flour production. Here we need to use raw grain collocation.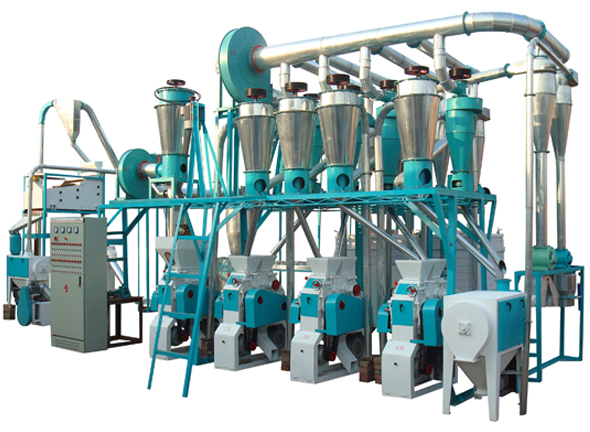 The raw grain collocation of wheat flour machinery is to collocate different quality and variety of raw grain with ideal materials for production and processing. In general, it is mainly composed of a wheat warehouse, wheat mixer and related supporting equipment. Wheat warehouse classifies and stores materials, wheat blending device controls proportion of different types of raw materials, the workflow of the cleaning process are controlled by the wheat blender. Primary cleaning is necessary before the processing and mixing of raw grain, and the mixing process of raw materials is usually set up at the front of the flour milling process.
The commonly used batching equipment is a volumetric wheat dispenser and a gravity wheat dispenser. Through this operation, the product quality can be more uniform, and the wheat flour machinery can produce better quality products, ensuring the normal operation of the follow-up process.
The effect of wheat flour machinery on the matching of raw grain will affect the quality of flour. The above is the introduction of wheat flour machinery. If you want to know more about other information, please pay more attention or click on the consultation. http://www.agitc.cn/pellet-mill.htm
Flour quality---the key to wheat flour machinery
The stability of flour quality is the first key to the development of flour processing equipment. Cooked wheaten food is an indispensable food in our daily life, so the number and scale of flour mills are developing rapidly, the number of flour processing equipment is also increasing. In this grim situation, if an enterprise wants to survive, develop and grow, and be competitive in the market, it must adjust its strategy in time according to the future competition pattern, strengthen the management of production technology, and strive to improve the stability of product quality, innovate products, and reduce costs.

In the development of flour processing equipment, the stability and improvement of flour quality is the first key. The stability and improvement of product quality requires strict management of all aspects of the production process. This is suitable for various production processes and scales. Small Wheat Flour Mill, Large Flour Mill, Cassava Flour Milling, Maize Miller. Website: http://www.agitc.cn/flour-mill.html