Soybean Oil Press
Uses of Soybean
Soybeans can be broadly classified as "vegetable" (garden) or field (oil) types. Vegetable types cook more easily, have a mild nutty flavor, better texture, are larger in size, higher in protein, and lower in oil than field types.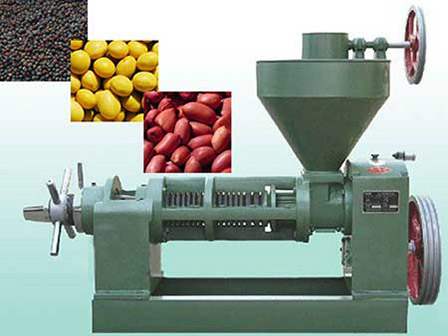 The soybean is a kind of very common oilseed, which is pre-eminent for its high (38–45%) protein content as well as its high (20%) oil content. The bulk of the soybean crop is grown for oil production. With the high-protein defatted and "toasted", soy meal used as livestock feed.
Soybean Oil
Soyabean seed contains about 19 % Oil. To Extract soybean oil from seed , the soybeans are cracked, adjusted for moisture content, rolled into flakes and solvent-extracted with commercial hexane. The oil is then refined, blended for different applications, and sometimes hydrogenated. Soybean oils, both liquid and partially hydrogenated, are exported abroad, sold as "vegetable oil," or end up in a wide variety of processed foods. The remaining soybean husks are used mainly as animal feed.