Influence of material size on the grinding effect of flour machine
The particle size of the material has a great influence on the grinding effect of flour machine. When the material particles entering the same grinding system are quite different, some smaller particles are very difficult to be milled. In this way, flour mills can hardly exert their proper functions, and the effect of processing will also be reduced.
In order to avoid the effect of the particle unevenly on the flour milling machine, the corresponding adjustment and control will be carried out in the process of processing, so as to ensure that the particle size of the same grinding system is uniform. When grinding, the phenomenon of incomplete and uneven grinding can be greatly reduced, and the grinding effect of the flour mill can be improved.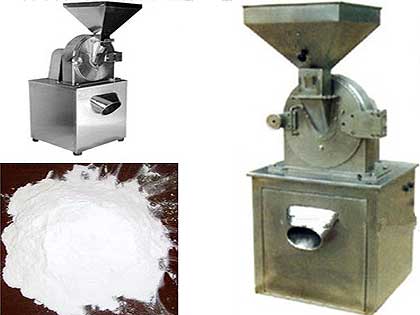 Flour machine---an ideal machine for individual processing in rural areas
With the development of the times, flour mills are also updated. According to the needs and basic changes of the people, the product function is becoming more and more humanized and scientific. It is more convenient to use, time to save, and gradually develop into a scale of use. Flour machine has also made innovation and development to a certain extent. The whiteness of flour has also been adjusted to improve the whiteness of flour. Setting adjustable grinding gap during operation, milling process that can reach the separation of skin core.
The company (AGICO GROUP) keeps pace with the times and examines the market demand. The flour mill produced can supply the use of large factories and meet the needs of more customers. It can grind wheat, sorghum, rice bean and other cereals and grains, grinding powder for chemical industry and milling grains. The powder yield can be improved to 75%-80%. High efficiency, low noise. AGICO flour mill has gradually become the most ideal machine in the rural small and medium-sized individual processing industry.
Flour machines have penetrated every aspect of our lives
Flour machines have penetrated every aspect of our lives, food made from processed flour is also an essential part of our daily diet and life. Therefore, flour mill technology has been renewing, has been innovating, has been developing. It is to be able to achieve better milling effects.
Flour processing is a comprehensive application technology. Every aspect of improvement and innovation will bring significant economic benefits. The same process but different operations can have different effects. The same output of equipment, different configurations, there will be different output, yield, product quality and energy consumption.
The processing of flour machine is the embodiment of all kinds of key technologies. In practical application, the key points of the technology are grasped according to the different emphasis, so as to achieve satisfactory results. It should be applied reasonably according to the actual situation. Highlight the key factors and grasp the main factors that affect production indicators. Solve problems in a targeted way, achieve satisfactory milling effect and best economic benefits.