Do you really know about sunflower oil seed press?
Advantages of sunflower seed oil
sunflower oil is extracted from the sunflower seeds, golden color, clear and translucent, and some people like to eat the fragrance, is the European, the Russian edible oil. It contains a large number of linoleic acid and other essential unsaturated fatty acids, can promote the regeneration and growth of human cells, and protect skin health, can reduce the accumulation of cholesterol in the blood, is a kind of advanced nutrition oil. Worldwide consumption of sunflower seed oil ranks fourth in all vegetable oils after palm oil, soybean oil and canola oil. The output of sunflower seed oil is stable between 10 million and 12 million tons, and sunflower oil is one of the most important edible oils in European countries.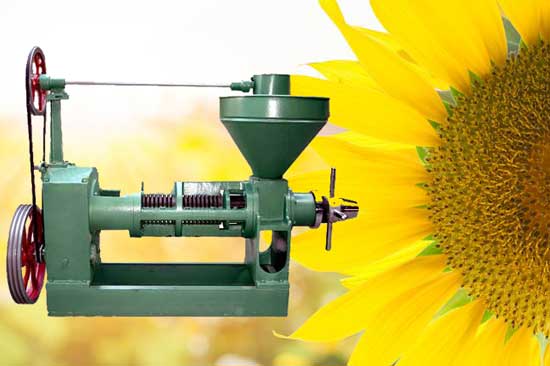 Sunflower seeds are rich in unsaturated fatty acids, proteins, potassium, phosphorus, iron, calcium, magnesium, vitamin A, vitamin B1, vitamin Bz, vitamin E, vitamin P content is also high.
Sunflower seeds are rich in vitamin B1, vitamin E, can prevent cell aging, emotional stability, the prevention of adult diseases, treatment of insomnia, enhance memory, cancer, hypertension and neurasthenia have a certain preventive effect.
Sunflower seeds also regulate the metabolism of brain cells and improve their inhibitory function, so they can be used for hypnosis.
Sunflower seeds rich in iron, zinc and manganese to sunflower have anemia prevention effect.
Sunflower seeds are rich in unsaturated fatty acids, which can lower cholesterol and help prevent atherosclerosis, hypertension and coronary heart disease.
Characteristics of sunflower seed oil press
The pressing surface of the parts of a small sunflower oil press is drawn and molded at one time, and it is automatically and precisely polished, thus improving the machining accuracy and smoothness of the press system, after the user purchase, just a simple test can be put into normal production. The feeding system has been adjusted, and the creative technical innovation has been made on the screw rod. The feed rate has been remarkably accelerated, and the production has been increased remarkably. The alloy steel is matched with the casting to meet the requirement of long-term continuous production to the mechanical quality, stable performance and durability.
High oil yield: adopt directional pressure, multi-stage push, a net pressure, the oil yield has been greatly improved.
Large production capacity: strengthen feed system, increase speed, work efficiency and improve effectively.
Automatic temperature control: electronic program control, scientific heating, automatic control of press temperature.
Automatic oil filtration: the principle of air negative pressure is adopted, and vacuum shunting technology is adopted. The vacuum diverter is built, and the oil and slag are separated effectively.
Safe and convenient: the structure is exquisite, the occupation space is few; the transmission system adopts the completely enclosed protection, the operation is safe and convenient.
Elegant appearance: the machine adopts the latest material, electrostatic spraying, strong adhesion, greasy resistance, high temperature resistance, both beautiful and easy to clean, to ensure hygiene.
Durable: the use of high-quality wear-resistant steel and anti fatigue casting scientific collocation, stable performance, to ensure that equipment can work continuously for a long time, and durable.